Hello :) It's Angela here again, thanks again to the IACW girls for inviting me back as a Guest Designer. Today I want to show you a couple of canvases that I have been working on over the last few weeks.
This work is inspired by
Maggie Grey.
Supplies:
12x12 canvases PVA glue String White tissue paper Ribbon Lace ribbon Gesso Foam stamps Adirondack Paint daubers in various shades Daler Rowney's Interference Mediums Metallic Rub On waxes Brilliance Ink Script Rubber Stamp Golden Gel Medium Photocopied Image For the
first canvas,
I covered the entire surface with PVA glue I then got two pieces of thick string and tied knots in them. This was then stuck to the canvas again with PVA, and a piece of textured ribbon was adhered along the bottom. This was then covered with a layer of whitetissue paper, then added more PVA glue and then another layer of white tissue.
This was left to dry. I then painted over this using Ranger's Paint daubers in denim and stream colours,
dabbed randomly
and then mixed on the canvas using my fingers, and sponge paint brushes. Once this was dry I
highlighted the string and ribbon
covered areas with some more stream coloured paint. Once this was dry, I used Daler-Rowney's blue interference medium over the top. Once this was dry, I rubbed over the raised areas with blue metallic rub-on wax to pick out the detail.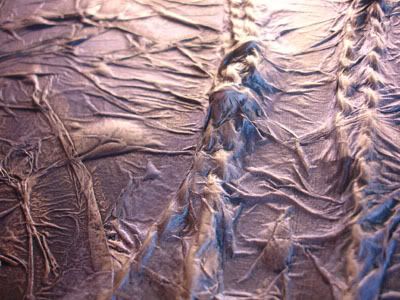 The finished canvas looks like this:
For the second canvas I used
gesso
(gesso is a substance used to prime surfaces for painting - it is like a thick acrylic paint). I applied the gesso using a palette knife, making sure that the edges were covered in a heavier layer of gesso. I stamped into the edges using foam stamps. It is important that you wash your stamps through thoroughly immediately so that it doesn't dry on your stamp and damage it.
I then cut two thin strips of
lace
and adhered them to the top and bottom of the canvas by setting them into the gesso, I then covered this with gesso using my fingers, dabbing it into the holes in the lace to make sure that it is properly stuck down.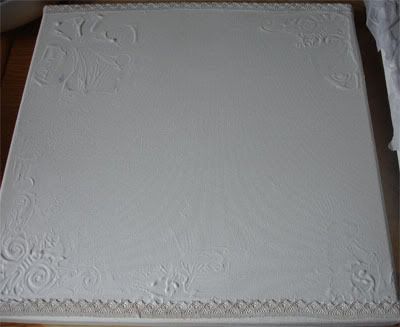 Leave this to dry overnight. Again this was painted with Ranger Paint daubers in Cranberry, butterscotch and a tiny bit of stream. This was worked into the canvas,
into the ridges
left by the gesso and into the lace.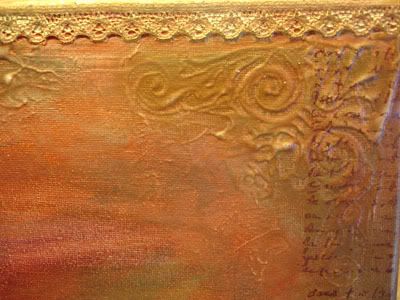 Once this was dry it was highlighted with red and gold interference medium by Daler-Rowney.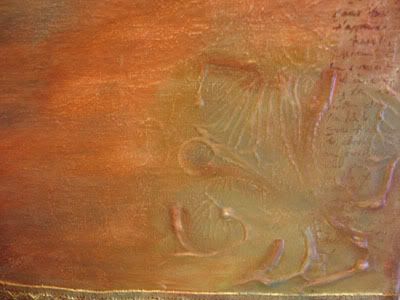 The stamped areas were then highlighted with metallic rub ons in green, gold and red.
This is the main technique for the backgrounds. I was happy with the first as it was, it didn't need anything else added to it. The second canvas had a large area in the middle that needed something, so I did an
image transfer
using golden gel medium and a photocopy of an image of my son and stamped with a script stamp using brilliance ink onto the side of the canvas.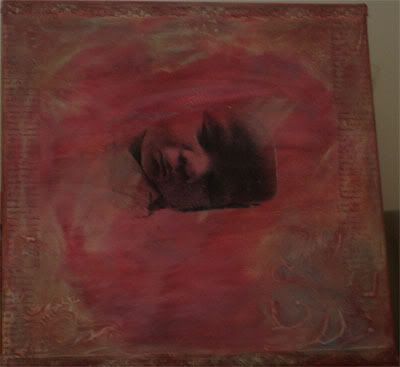 These techniques are really simple and easy to do and give great effects, they would even work on book covers and many other surfaces. ~angela~